Commercial Roofing Replacement & Repair Services
When you choose Express Roofing LLC as your commercial roofing contractor, you can rest assured that your roofing replacement or repair needs will be taken care of by our highly skilled and knowledgeable professionals. Our company has been providing Greenville business owners with high-quality commercial roofing work since 2001. We are committed to using only the best products and innovative practices to complete each job with excellence. Contact us today for a free project estimate!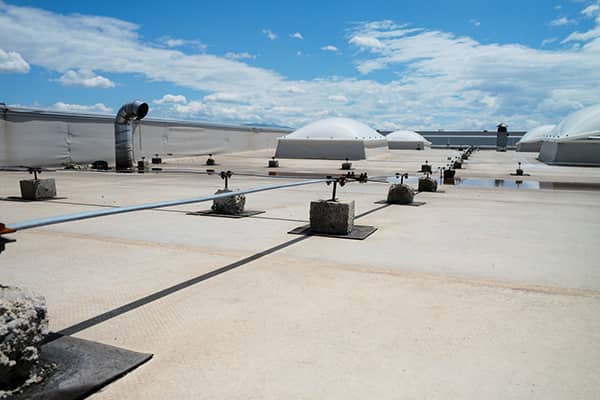 Our Commercial Roofing Services
Roofing Replacement: If your low-slope or flat commercial roof is due for replacement, trust our experienced roofers to do the job correctly. We'll carefully remove your old roof and install the new roofing system with excellence in mind.
Roof Repair: Whether your roof has been damaged by foot traffic, harsh weather, water damage or something else, our roof repair contractors have the skills to restore every component back to proper condition.
Roof Coatings: Does your commercial roof need a new coating? Roof coatings are important to protect your roof long-term. We provide a selection of high-quality roof coatings to choose from.
Why Choose Us
Express Roofing LLC understands that every roofing replacement job is unique and requires professional attention to detail to ensure top-quality results. We're here to make the entire process easy for you. We will help you select the right materials for your new roof and then deliver a top-quality installation. When we're finished, we will be sure to clean up thoroughly, leaving you with a new, watertight roof we all can be proud of.
Contact Us for a Free Roof Estimate!
If you're a business owner in the Butler County area and you need a commercial roofing contractor you can trust, contact Express Roofing LLC. We would love the opportunity to earn your business by discussing your needs and offering a free estimate. Call us today at (334) 382-0632 or submit the contact form to get started!